At the 6 Mile-Post in Kill Devil Hills, North Carolina, a small cottage is for rent with three bedrooms, 1 full bath upstairs and a hot and cold running shower downstairs. It will sleep 7 people comfortably not including the living room couch.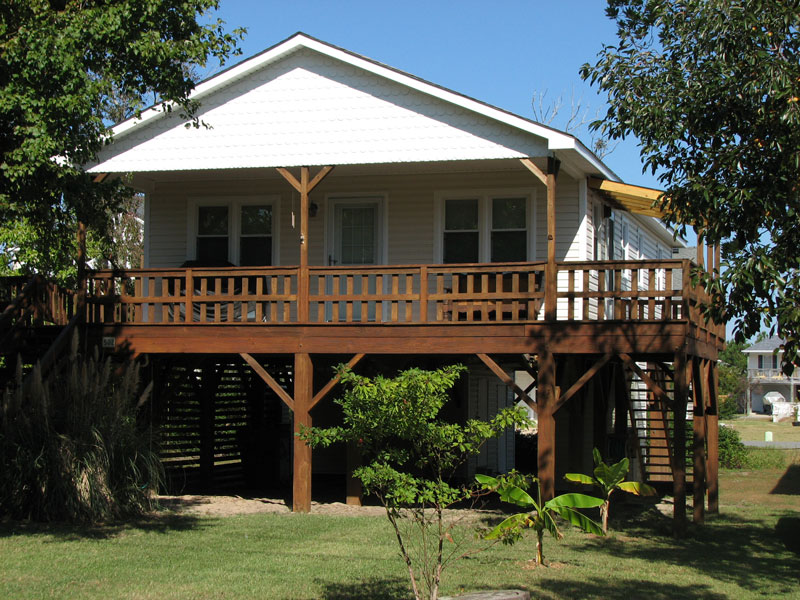 Within walking distance to the Albemarle Sound for great evening sunsets.
Public Beach accesses are only a ¼ mile away.
Shopping Centers are only 3 minutes away.
Great fishing just down the street at the Avalon Fishing Pier.
Here are the current Fishing Reports

---
UPGRADES in 2008
In May of 2008, the cottage went through a major face lift by installing Dutch Lapp vinyl siding over top of the old wooden T-111 siding.
Below are some pictures of the finished product.
---
UPGRADES in 2010
In February 2010, the cottage got the much needed central Heating And Air Conditioning System. This now eliminates the old electric base board heat strips and the old school window unit A/C units.
Now, there is a brand new Maytag 24,000 BTU (2-Ton) Heat Pump HVAC system installed with ceiling vents in all rooms.
A digital thermostat in the hallway is now provided.
This now makes the atmosphere more comfortable and quiet without the noisy window unit A/C's running.
The new system was installed by R. A. Hoy Heating and Air Conditioning in Kitty Hawk.
---
UPGRADES in 2010
In September 2010, the cottage got all new energy efficient windows and doors. Now, all the windows can be easily opened if an outside ocean breeze is desired. The old storm windows are gone making it easy to enjoy opening the windows. The new windows are double-hung, double pane, E-Rated windows and made by Simonton.
---
UPGRADES in 2010
In September 2010, the cottage also got all new, solid fiberglass, entry doors and storm doors. The front storm door, made by Anderson, is now full glass making it easy for your pets and kids to see out the front door. The new fiberglass doors also got a security upgrade with high quality locks and dead bolts by Schlage to keep you and your belongings as safe as possible.
---
UPGRADES IN 2011
A Samsung 40" High Definition LCD TV with an HD DVR from Direct TV was added. You can now record your shows in HD while you are at the beach for viewing at a later time. All Norfolk, VA local channels (3-43) are also now in HD
A brand new GE 25 cu-ft side-by-side refrigerator with ice and water dispensers on the door has now been added in the kitchen.
---
UPGRADES IN 2014
New kitchen vinyl flooring was installed with a nice simulated stone texture.
It is the glue less type that has a slight cushion feel that feels great on bare feet.
---
UPGRADES IN 2015
The cottage got all brand new wall to wall carpeting with a nice high quality foam padding from Lowes of Kill Devil Hills. This included the living room, dining room and all three bedrooms. The Fourier at the front door was also upgraded with new vinyl flooring to match the new kitchen floor that was upgraded in 2014.
---
UPGRADES IN 2016
The old wooden love seat on the front porch was finally upgraded to a true outdoor wicker patio sofa. The old wooden love seat made it 16 years as a lounger for the front porch. It really was not made for outdoor use but it worked.
Now, with the new patio sofa, there is room for 3 to enjoy the peace and quiet of OBX.
---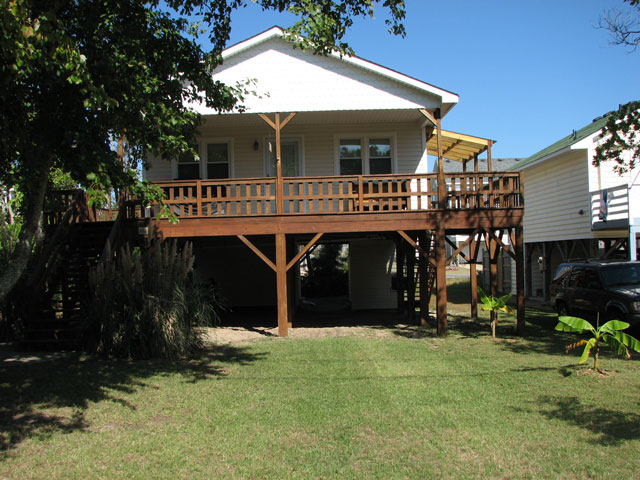 ---
In 2009, the entire deck, railing, pylons and steps were completely stripped of old stain all the way down to the natural wood, using a high strength stain stripper and power washer.
Then, 2 weeks later, a fresh coat of linseed oil-based "Cedar-Tone" stain was re-applied. This project took approximately 17 gallons of stain stripper and about 17 gallons of Sherwin Williams "Deck-Scapes" stain.
As you can, the deck now looks brand new.
---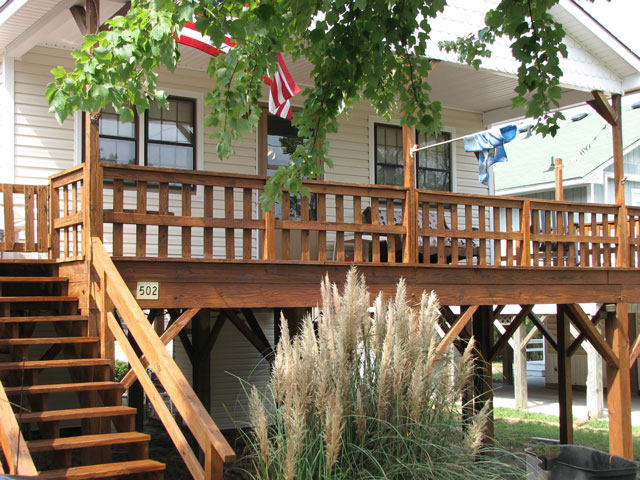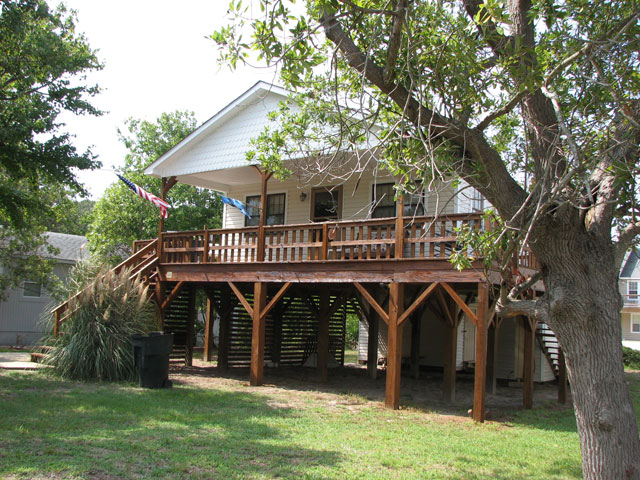 ---
A view from the back shows the new vinyl siding and Simonton energy efficient windows.. The back stairwell was also replaced in 2008.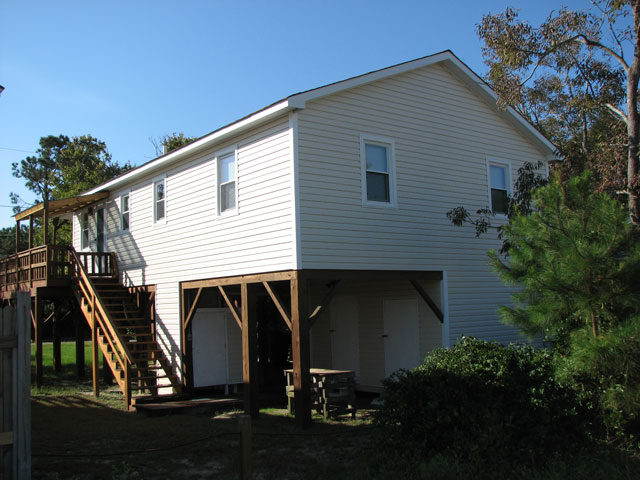 ---
A couple of views of the living room show a relaxing TV viewing atmosphere.
A video rental store is only 3 minutes away.

Some of the included luxuries are:
Dolby® Pro-Logic Surround Sound System
DirecTV® HD Satellite with 130 channels including Norfolk locals
40" HDTV
Blu-Ray Player
National Weather Service weather radio
Central Heating and A/C
Ceiling Fans
Here are some pictures of the living room
---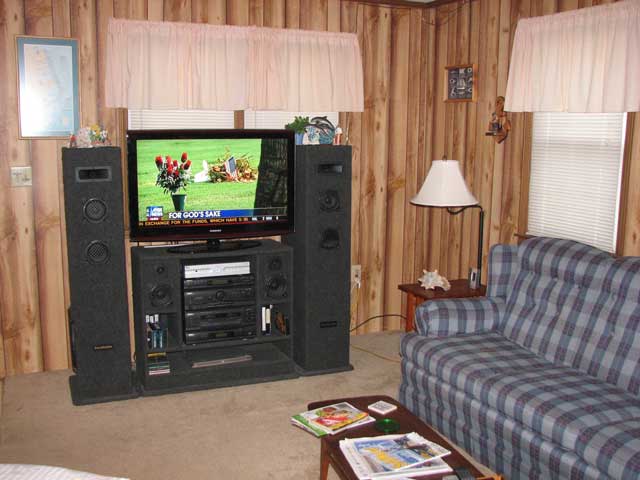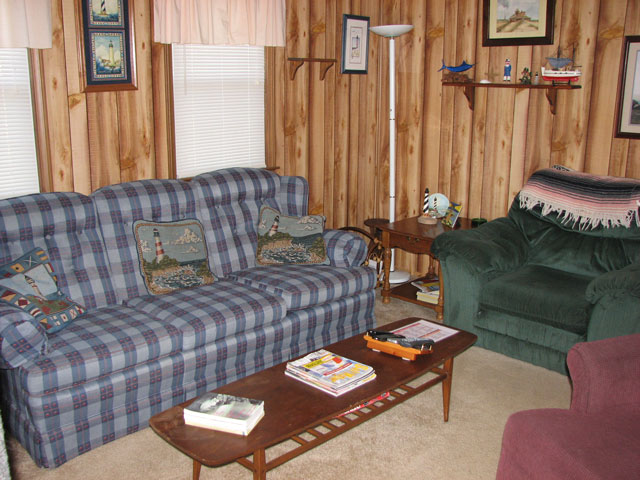 ---
Here are some nice pictures showing the kitchen and dining room. Some of the major appliances include
A Full size 4-burner stove and oven
Full size Side-by-Side Refrigerator/Freezer with ice dispenser on the door
1200 Watt Microwave Oven
Coffee Maker
Toaster Oven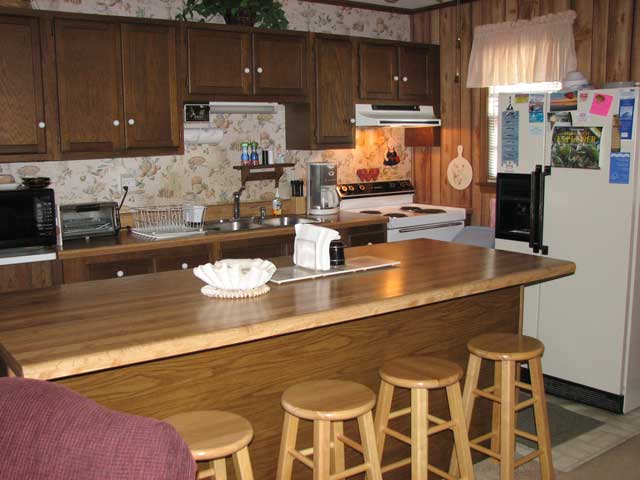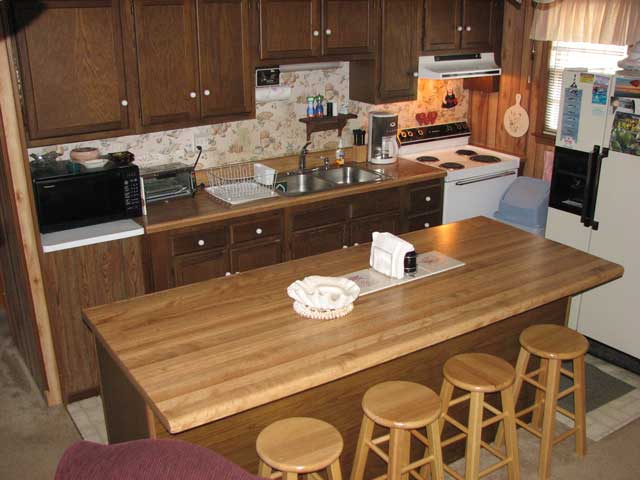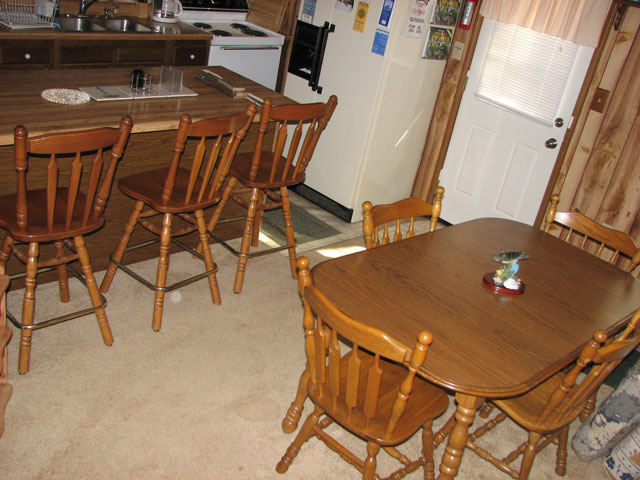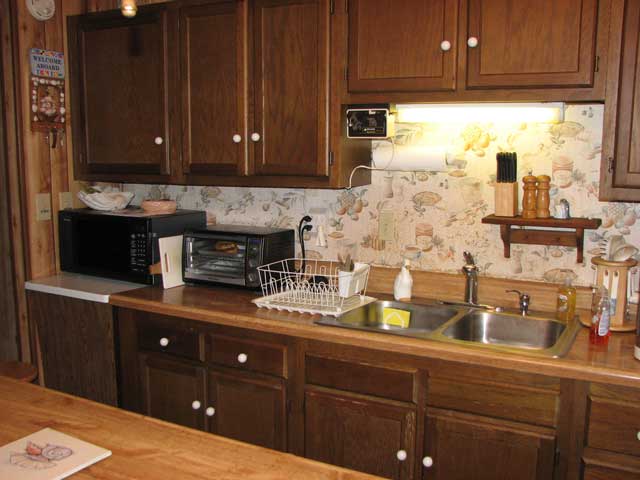 ---
Here is a look down the hallway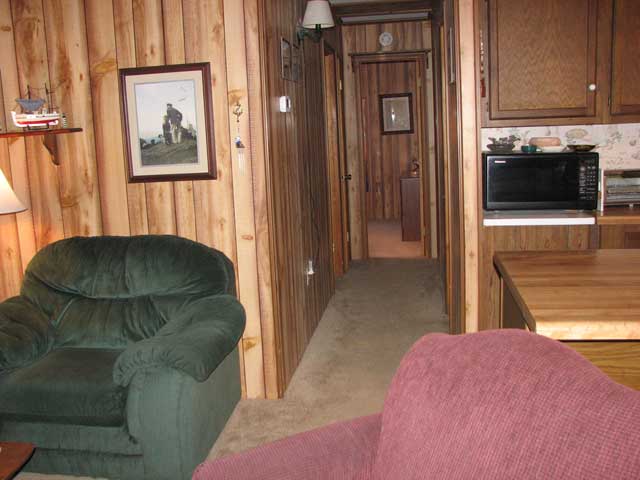 ---
Below, the master bedroom has 1 Queen Size bed and 1 twin size bed.
Dresser drawers are available to store clothing during your visit.
Central Air conditioning is provided for maximum cooling.
---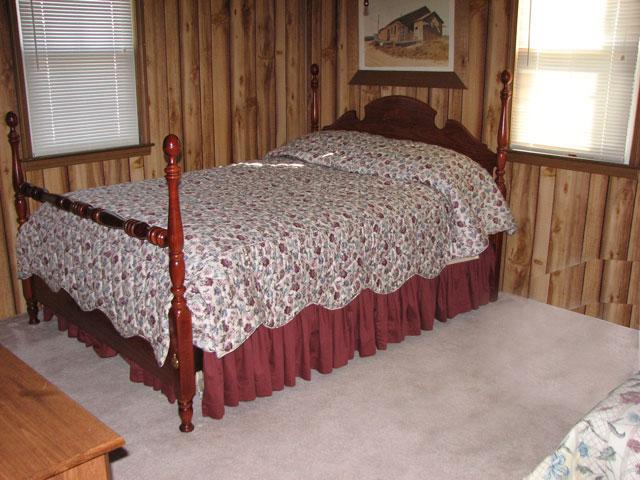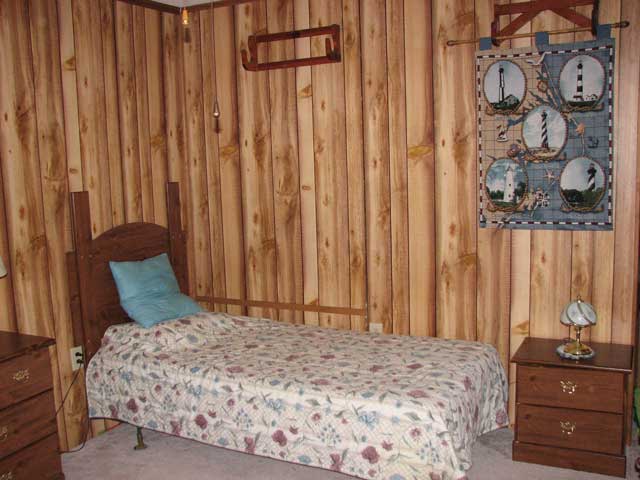 ---
Below, the middle bedroom has 1 Queen Size bed.
Dresser drawers and a closet are provided to store your clothing during your visit.
Central Air conditioning is provided in this bedroom.
---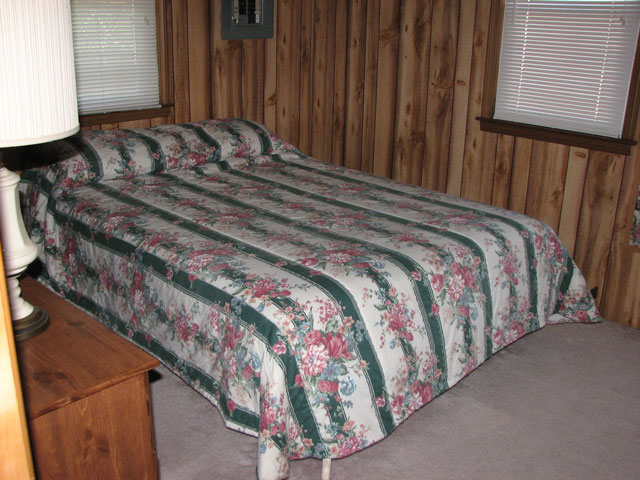 ---
Below, the smallest bedroom has a Trundle bed that sleeps 2. This is great for the kids.
The bottom portion of the bed pulls out easily for the 2nd sleeper.
Dresser drawers and closet space are provided.
Central Air conditioning is provided in this bedroom.
---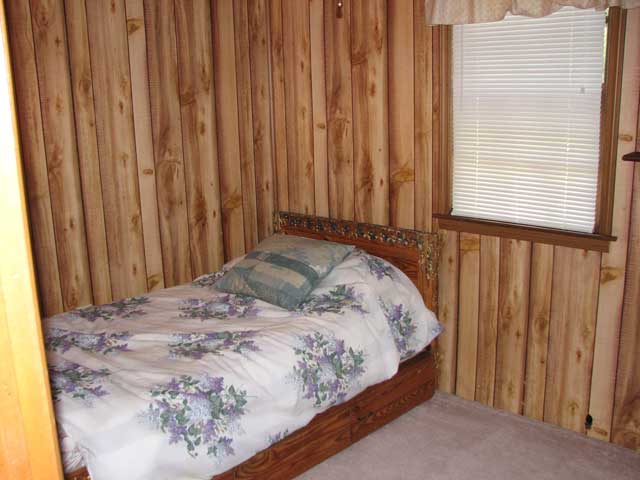 ---
Here is a picture of the new Maytag 24,000 BTU HVAC Unit installed in February 2010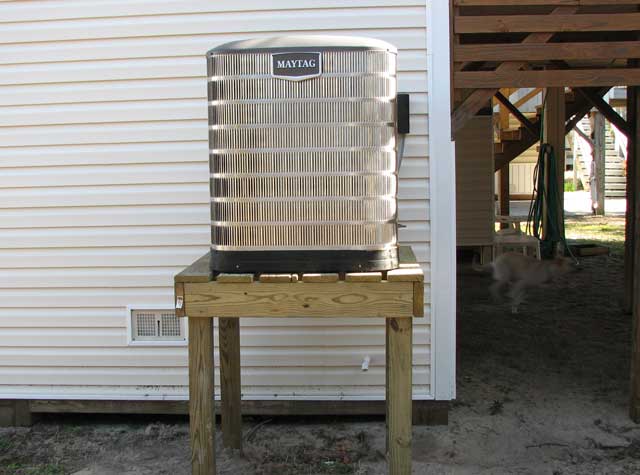 ---
Directions:
Head south on the US-158 By-Pass. Turn right off of the Bypass 158 South 50 yards past the
"Big Green 6" Mile post marker onto W. Sportsman Drive.
502 is on the right side of the street about half way to the Sound.

---
Rental Rates (April-October):

Weekly rentals preferred in the Summer season.
7 Nights/8 Days Saturday 3pm till following Saturday 12:00pm

$600.00 per week ($110.00/night for partial weeks)
In 2016, the property insurance in the Outer Banks had a major rate increase for many properties.
Unfortunately, for the first time in several years, I had to increase the rental rates.
Minimum 2 nights. Single night stays are not permitted unless previously discussed.

Note: There is no housekeeping or cleaning services provided.
You must clean the entire cottage yourself prior to departure just like you will find it at check-in.
You must provide your own bed linens and bath towels.
Bed spreads and pillows are already provided.

Weekend only rentals have limited to no availability in the summer months.



---